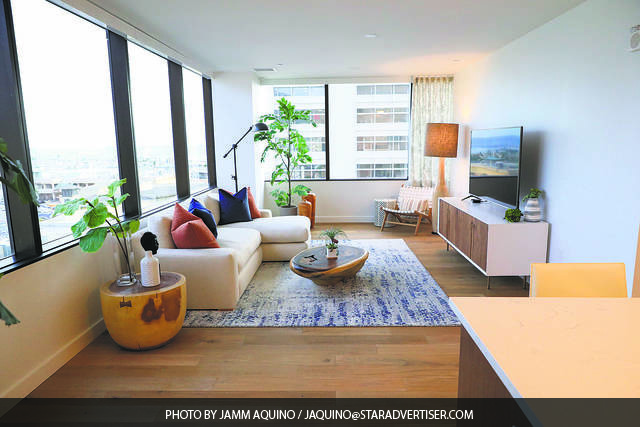 10 questions to ask when buying into a new condo project
With the condo boom in Kakaako already about a decade in, and posh, multimillion-dollar units at market saturation, developers are hoping to cash in and ride the next wave of condo buyers in Honolulu.

Developers, some from as far away as China and South Korea, plan to build thousands of condo units in the Kapiolani-Ala Moana area over the next several years, and many have shifted their attention to working-class, first-time and price-­conscious buyers.

There are about a dozen new residential towers — a few with a mix of hotel units — planned for this area. The sold-out 45-story, 485-unit Kapiolani Residence is nearing completion with its first residents expected to move in soon. And sales for the 41-story Azure Ala Moana began last month. Pre-­construction sales for several other planned projects in the area are expected to launch over the next year.

Here are 10 questions to ask when buying into a new condo project:

Is this right for me?
These residential towers take roughly two to three years to build, so find out the expected completion date. Life happens, and big changes such as marriage (or divorce), having children or a new job could affect whether this is the right home for you for the long term. Keep in mind affordable units, which are sold below market value, often come with restrictions on selling or renting for several years.

What are the maintenance fees and what will they cover?
These HOA fees vary greatly from project to project depending on the type of building, amenities and which utilities are included. These fees are based on the developer's best projections and likely will go up over time.

What will the views be like?
The higher the floor, the higher the price. And whether the unit faces the ocean, Diamond Head, the mountains or Ewa can have a drastic impact on the price. With the advancement in aerial photography, developers often provide approximate views from your floor or elevation. But the views could be much different in five or 10 years when other towers are built. And a new tower next door could end up dramatically obstructing your once million-dollar view.

What am I actually getting?
Know what you're getting in terms of finishes, appliances and fixtures. Developers often have their models decked out with all the bells and whistles. Find out what comes standard and what are the upgrade options. That high-end flooring or appliance package could substantially add to the final price tag of your home.

Can I afford this?
The good news is you don't have to make mortgage payments until the condo is completed. The bad news is you have no idea what the interest rate will be at that time. It's safe to assume mortgage rates likely will be higher than they are today. Just how much higher? No one knows. The developer-preferred lenders will qualify you at a higher projected interest rate. So it's important to consult with a loan officer early and figure out whether you qualify and what your monthly payments will be at those higher rates.

Where are my parking stalls?
Parking is at a premium in Honolulu, so it's critical to know how many parking stalls are included and where in the parking structure they are. Are the stalls standard, compact or tandem? Is it uncovered in the hot sun or located next to a concrete wall? How far away is it from the elevator? Can you add a charger for your electric vehicle?

What are the restrictions on selling or renting out the unit?
Read the purchase agreement for any restrictions attached to your unit, especially if it's an affordable unit, a reserved housing unit or if you have signed an owner-occupant affidavit.

What is the warranty?
Find out what is and isn't covered under warranty and for how long. This could save you big money when something breaks.

What will this neighborhood be like in the future?
Research the neighborhood and consider how the look and character will change with new development in the area. Find out how traffic flow will be affected or how close will you be to a rail station or bus stop.

What is the developer's track record?
Not all developers are created equal. Do some homework and learn about their history, past projects, reputation and commitment to our community.

Remember there are always some unknowns when you are buying something before it's built. So have these questions in mind and ask many more. And find a real estate professional and loan officer to represent your interests and help guide you through the sale.